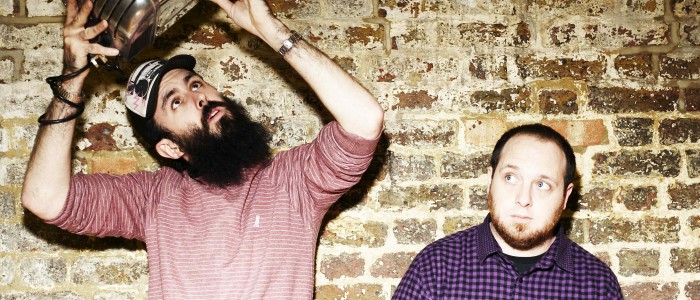 Dan Le Sac vs Scroobius Pip
Wednesday 30th April 2014
With: ITCH + Sarah White
Doors 7:00 pm
Price £12 / £14
Melting Vinyl and Eastbourne Theatres are pleased to welcome one of our favourites: dan le sac vs Scroobius Pip! The duo will be playing at Winter Gardens in Eastbourne, a Victorian ice rink that has now been converted into a music venue.
Both respected solo artists in their own right, the duo originally teamed up after getting to know each other better whilst working a Christmas season at a HMV in Essex. Through the sharing of Myspace links and remixes, they decided to collaborate. Their first collaboration created the very well-known Thou Shalt Always Kill. The success of the single continued the partnership and creation of successful albums: Angles and The Logic of Chance.
Both albums entered the top 40 with huge critical acclaim, whilst still shunning any of the major label overtures that continued to follow and instead releasing on the independent Sunday Best Recordings. With a sound that has never attempted to 'fit in,' dan le sac vs Scroobius Pip continue to receive a huge amount of radio play and attention.
With their latest album, Repent Replenish Repeat, the duo continue to create their own unique blend of hip-hop and electronic beats with a mixture of spoken, sung and rapped lyrics. As a socially and politically aware team, dan le sac vs Scroobius Pip create music that echo the brilliance of Gil Scott-Heron's writing. Uncut magazine called their latest album 'powerful as it is invigorating,' and their live shows are just as stunning. Don't miss it!
Pre-sale tickets on sale on the 27th January through Sundaybest:http://sundaybesttickets.sandbag.uk.com/
Other outlets  Tickets onsale 28th Jan! (Including resident in Brighton)