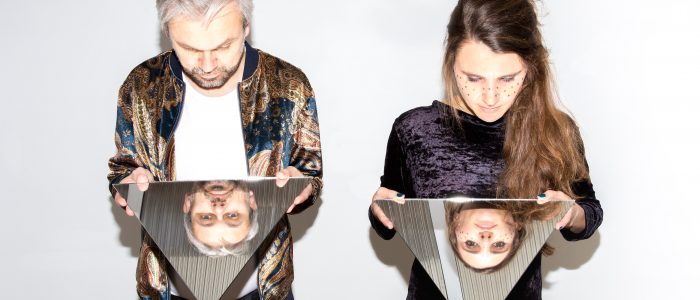 Fröst
Wednesday 3rd October 2018
Spill Gold + Genti (Via Tirana) DJ set
Doors 8:00 pm
Price £6 + booking fee / £8
Fröst is a Brighton-based collaboration between French-Swedish sound artist Johanna Bramli (vocalist for Stereolab offshoot Imitation Electric Piano) and Fujiya & Miyagi's synth player and producer Steve Lewis. For fans of the likes of Broadcast, Silver Apples and Kraftwerk together the duo create angular and electronic music by blending Motorik and hypnotic radiophonics into neatly wrapped often bilingual pop structures.
On 28 September Fröst release their debut album Matters via Lost Room Records. The duo has previously released three singles, the murkily glitchy 'Crackling on the Wire' (December 2016) which Edith Bowman made 'Record of the Week' with support also from Annie Mac (BBC Radio 1), Nemone and Gideon Coe (BBC 6 Music) and John Kennedy (Radio X). Followed by second single 'Keratin' (March 2017) and Fröst's debut E.P. of the same name (May 2017), and more recently 'Record Still Spinning', picked as a favourite track by Lauren Laverne on 6Music Recommends show.
'Record Still Spinning' is akin to fellow album tracks such as 'Scars On The Lining', both offering a hypnotic kind of Motorik with a pop-sensibility and Bramli's gentle vocals giving the songs an ambient warmth. Likewise, French-language songs such as 'La Vénus D'Argent' give the cold electronic edge a softer nouvelle vague hue whilst 'Black Mountain' offers sultry electronic-pop reminiscent of Goldfrapp. Whilst other tracks found on forthcoming debut album Matters such as 'Delta Antenna' and aforementioned debut single 'Crackling on the Wire' offering a deeper transcendental journey into the blips and beats of rave culture.
"A detour through the best of 80's pop" – The Line of Best Fit

"Like Broadcast fronting motorik band Neu!" – Resident Advisor

"Matters is a collection of alluringly hypnotic segments of glowing electronic-pop" – FAME Magazine
Support comes from
Spill Gold (NL/USA) is a psychedelic three-piece that unwinds vivid, spiralling stories with their eerie yet persistent songs, bringing listeners into a trance- like state. With snake-charming synths, dreamy yet urgent vocals, swerving guitar lines, and heavy, earthquaking drums, they move you to dance and float away at the same time.