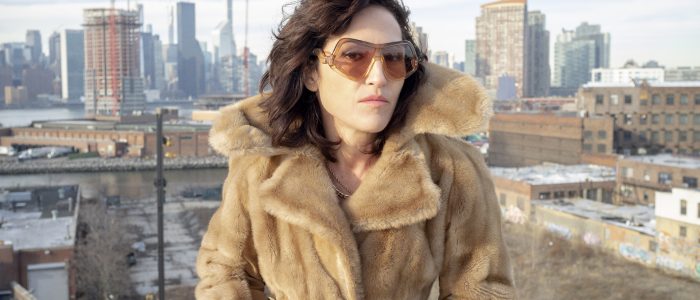 Joan As Police Woman Live 2021
Friday 21st May 2021
Doors 7:00 pm
Price £25 + booking fee
Melting Vinyl are delighted to welcome the exquisite Joan As Police Woman back to St George's Church, BN2 1ED,  in 2021
ON SALE NOW
Wildly acclaimed Brooklyn songwriter Joan As Police Woman returns in 2021 with her new album and concert tour "Cover Two", performing as a trio with Parker Kindred (drums) and Jacob Silver (bass). Playing an extended concert with no support, Joan and the band will be performing music from her "Cover Two" record and re-imagining songs from the Joan As Police Woman songbook. 
Named in homage to the 1970s television cop show starring Angie Dickinson, classically trained violinist turned rock musician Joan As Policewoman has been mesmerising audiences across the globe since 2002 with her subtle and smouldering songs.
Her first record, Real Life, earned the band "Best Rock and Pop Album," at the Independent Music Awards. Her second album,To Survive, was chosen in 2008, as one of Q Magazine's, "Albums of the Year." A prolific collaborator she has worked with the likes of of Rufus Wainwright,  Damon Albarn, sufjan Stevens, David Sylvian, Laurie Anderson… the list goes on.
More recently she has turned her hand to film composition co-writing the  score for Permission, directed by Brian Cano alongwith pianist Thomas Bartlett (Doveman) and Iin early 2019, Joan took a look back at her first fifteen years of music, and gathered together songs for a triple-disc compilation album, Joanthology, which also became an extensive and hugely acclaimed solo world tour.
May 1st this year hailed the release of her second covers album 'Cover Two' on Reveal Records in which JAPW magically extracts new meaning from songs we know and love and reveals their secret essence.
Joan says: 
"I began working on this second covers album ever since the release of the first one 11 years ago! I've been performing "Kiss" by Prince and my version of "Out of Time" by Blur throughout last year's Joanthology Tour and finished Cover Two as soon as I returned home this winter. Recreating existing songs is a gratifying creative challenge for me, especially with songs I adore. I start with the question, 'WHY, exactly, do I love this song?' I take those elements and reform them, sometimes removing much of the remaining material to refocus them through new glasses. I re-harmonize the chords, radically change the feel, or shift the hook or the phrasing to rebuild the composition." 
Praise for Joan As Police Woman:
"Joan As Police Woman is one of the 21st century's best musicians" –The Economist
"Sensational" – Sunday Times
"This is breathtakingly good music" – Uncut
"The coolest woman in pop" – The Times
"Full of meditative beauty…ravishing and lovelorn" – Mojo
"A voice so wondrous and moving that it makes everyone else's seem ordinary and mundane" – The Guardian
"Beautiful"  – Q
JAPW links: