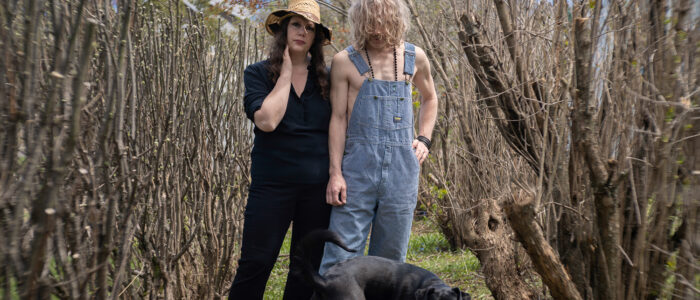 LOW + Special Guests Sold Out
Thursday 28th April 2022
Sold Out
+ Special Guests
Doors 7:00 pm
Price £29.50 + booking fee / £33.50
THIS SHOW IS NOW SOLD OUT
Low is returning to their beautiful spiritual home that is St. George's Church after their previously sold-out show in Brighton.
Over the course of Low's constantly evolving career, their exploration of minimalist soundscapes and divine harmonies have garnered an array of praise from critics, inspired by the likes of Robert Plant and Mavis Staples, and pushed sonic boundaries with collaborators like Warren Elis and Nels Cline. Their album 'Double Negative' was heralded as one of the best albums of 2018. In yet another forward step, Low invites you to join them in exploring the musical edges of light and dark.
In 2018, the band Low turned twenty-five. Since 1993, Alan Sparhawk and Mimi Parker—the married couple whose heaven-and-earth harmonies have always held the band's center—have pioneered a subgenre, shrugged off its strictures, recorded a Christmas classic, become a magnetic onstage force, and emerged as one of music's most steadfast and vital vehicles for pulling light from our darkest emotional recesses. But Low will not commemorate its first quarter-century with mawkish nostalgia or safe runs through songbook favorites.
HEY WHAT, the astonishing new Low album, will be released worldwide on September 10th, 2021 on Sub Pop Records. In anticipation of the new album, the beloved group is sharing "Days Like These," the first single, and its official video, helmed by their longtime friend and director, Karlos Rene Ayala. You can watch "Days Like These" by clicking here.
HEY WHAT is Low's thirteenth full-length release in twenty-seven years, and their third with producer BJ Burton. The new album finds the group focusing on their craft, staying out of the fray, and holding fast their faith to find new ways to express the discord and delight of being alive, to turn the duality of existence into hymns we can share. These ten pieces—each built around their own instantaneous, undeniable hook—are turbocharged by the vivid textures that surround them. The ineffable, familiar harmonies of Alan Sparhawk and Mimi Parker break through the chaos like a life raft. Layers of distorted sound accrete with each new verse – building, breaking, colossal then restrained, a solemn vow only whispered. There will be time to unravel and attribute meaning to the music and art of these times, but the creative moment looks FORWARD, with teeth.
HEY WHAT is now available for preorder on CD/LP/CS/DSPs from Sub Pop. LP preorders in the U.K  including the limited Loser Edition on clear vinyl (while supplies last). HEY WHAT's minimal album cover, evoking interference patterns, was designed by UK multidisciplinary artist Peter Liversidge.
HEY WHAT is the band's first release since Double Negative, one of the best-reviewed albums of 2018, with year-end honors from Uncut (#1), The Guardian, MOJO, NPR, Vulture, The Wire, and more. The album also earned "Best of the Decade: 2010s" placement from Aquarium Drunkard, Brooklyn Vegan, Pitchfork, and Stereogum.
"Double Negative is, indeed, a record perfectly and painfully suited for our time. Loud and contentious and commanding, Low fights for the world by fighting against it. It begins in pure bedlam, with a beat built from a loop of ruptured noise waging war against the paired voices of Sparhawk and Parker the moment they begin to sing during the massive "Quorum." For forty minutes, they indulge the battle, trying to be heard amid the noisy grain, sometimes winning and sometimes being tossed toward oblivion." – Sub Pop
"The austere trio has profoundly warped their slowcore sound to create an ambitious, modern wonder of an album, an exploration of the song as an imperfect conduit of feeling." – Pitchfork
"Double Negative is an astonishing album, cohesive but wide-ranging, occasionally presenting Low as they were, more often seeing the trio forge on until guitars dissolve, words dissolve, flesh dissolves and everything becomes pure light." – Drowned in Sound
Photo Credit: Nathan Keay