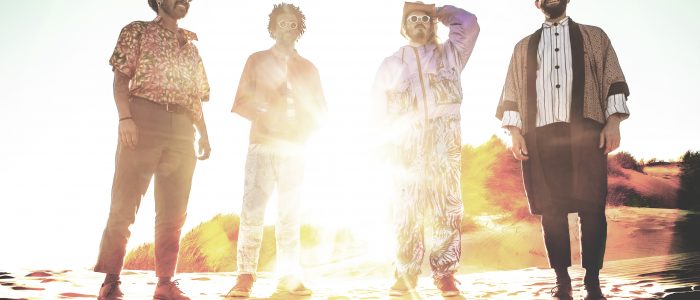 Flamingods
Tuesday 29th October 2019
Doors 7:30 pm
Price £10.00 + booking fee / £TBC on the door
Melting Vinyl & Love Thy Neighbour present…
The worldly psych of Flamingods returns for another tropical night in Brighton.
Flamingods are a four-piece, multi-instrumental band from Bahrain & London founded in 2010 by Kamal Rasool and now consisting of Rasool, Sam Rowe, Charles Prest and Karthik Poduval.
The group explores and experiments with an array of influences from Western psychedelia, jazz and indie to a wide-eyed obsession with music from the East. Using a vast selection of instruments from the Middle East and Asia, the band marries this with Western instrumentations of synthesisers, guitars and drums to create a potent sound all of its own that they call 'Exotic Psychedelia'.
The new album 'Levitation' (3 May, Moshi Moshi Records) is out now! The first single to be unveiled is 'Marigold', a multi-sensory psych-rock trip that finds Flamingods on hair-raising form even by their own exuberant standards. 'Marigold' oozes fun out of every pore, a perfect antidote to turbulent times.
'Levitation' is inspired largely by the disco, funk and psychedelic sound coming out of the Middle East and South Asia in the 70s, the album channels these influences through a vision soaked in mysticism, positivity, and sun-drenched imagery.
During the process of writing and recording 'Levitation', Flamingods found themselves living in the same continent for the first time in four years and it's this new unified feel that defines the confident and eclectic sound of the album.

"Yet it is their riotous, carnival-like energy that sets them apart as such compelling live performers. Opener 'Xipe Totec,' named after an Aztec deity, set the raucous tone with pounding drums, helter-skelter riffs and warped, echoing vocals, as frontman Kamal Rasool cavorted around the stage in his colourful attire. " gigwise
"Inspired largely by the disco, funk and psychedelic sound coming out of the middle east and south asia in the 70s, the international psych explorers flamingods channel these influences through a vision soaked in mysticism, positivity, and sun-drenched imagery." Resident Records