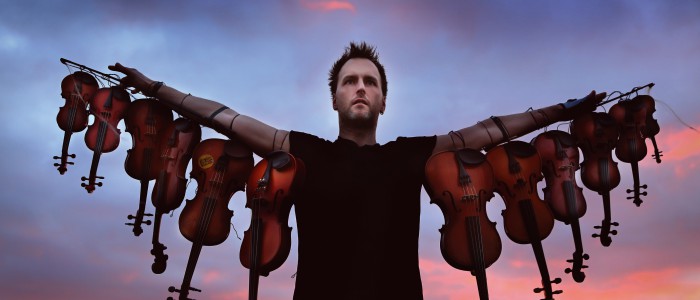 Jon Boden
Wednesday 10th May 2017
+ terrace cred. (DJ)
Doors 7:30 pm
Price £22.50 + booking fee / £26.50
Jon Boden (Bellowhead) has become the stand out performer of his generation of traditional folk artists, but one whose repertoire extends far beyond the boundaries of the genre. He comes to Brighton as part of his first ever solo tour.
Jon Boden is best known as the lead singer and main arranger of the progressive folk juggernaut Bellowhead. After twelve years, a quarter of a million album sales, seven singles on the Radio 2 playlist and selling out hundreds of venues throughout the land and beyond, including notably the Royal Albert Hall, Jon is launching his first ever solo tour.
2006 saw the release of his solo album Painted Lady (to be re-released with new bonus tracks in 2016 to mark the album's tenth anniversary) followed by the critically lauded Songs From The Floodplain which led to him being named Folk Singer of The Year at the 2009 BBC Folk Awards, and has toured several times since then with his own band The Remnant Kings.
The show promises to incorporate elements from the wide creative span of his career – from the self-penned pop songs of Painted Lady, to the funked-up power-pop arrangements of folk songs that characterised Bellowhead and Spiers; Boden, to the post-Apocalyptic song-world of Songs From The Floodplain, to unaccompanied ballads as featured on his mammoth A Folk Song A Day project in which he recorded and released 365 folk songs in one year across 2010-2011.
Widely respected as an interpreter of traditional song, the solo shows will also showcase Jon's instrumental talents on fiddle, guitar and concertina, as well as his trademark 'stompbox' which he and John Spiers introduced into to the world of traditional music in 2001. It will be an intimate insight into a man of many and various talents and promises to take the audience deeper into the song worlds of traditional music and of his own songwriting.
"more confident than ever." – The Guardian ****
"joyful exuberance.." – The Telegraph ****
—
terrace cred. (DJ)
Paul, the promoter of terrace cred. will be spinning some tunes on the night.
terrace cred. is a purveyor of quality singer-songwriter nights mainly at The Greys (a venue we love putting on intimate shows at).