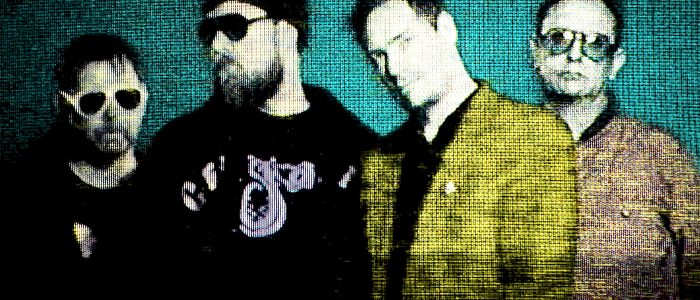 Creep Show
Thursday 10th October 2019
Selling Fast
Doors 7:30 pm
Price £18.00 + booking fee / £22 on the door Standing
Melting Vinyl presents:
The super force of four incredibly talented artists under one name, Creep Show, gracing the stage at The Old Market this October.
Creep Show brings together John Grant with the dark analogue electro of Wrangler (Stephen Mallinder / Phil Winter / Benge) and following their debut album Mr Dynamite last year, they're now announcing a new live show which will be packed with experimental pop and surreal funk.
Mr Dynamite, which was voted 2018 Album Of The Year by Electronic Sound Magazine, was recorded in Cornwall with a lifetime's collection of drum machines and synthesisers assembled by Benge and explored by every member of Creep Show. There's a real sense of freedom in the shackles-off grooves, channelling the early pioneering spirit of the Sugarhill Gang through wires and random electric noise.
This sense of adventure is also part of the interplay between the two vocalists, John Grant and former Cabaret Voltaire frontman Stephen Mallinder, who switch between oblique wordplay to sinister humour as Phil Winter and Benge continue to man-handle the machines. "Creep Show is Hydra,' says Mallinder. 'A beast with multiple heads and voices, so no one is quite sure who is saying and doing what. Everything is permitted and everything is possible.' Grant: "I do like theatre of the absurd and some of it is that, but most of it is just having fun. We did a lot of laughing and just had a blast doing it."
According to Mallinder the band "sprang fully formed a couple of years ago but in truth had been bubbling away for decades in a petri dish containing spores of seventies sci-fi, post–punk electronic music, bad taste, broken synthesizers, luscious film soundtracks, and dubious band t-shirts." They first came together – their name hadn't yet come to Benge in a dream – at the Barbican in London late 2016 as part of an event celebrating 40 years of Rough Trade. Preferring not to live on past glories, Grant and Wrangler wrote a whole new set of material together. As Mallinder explains, "we thought the only way to work with someone was to lock the doors and wrestle each other until we could come out with entirely new and original stuff. Why not? If you work with someone, test yourself, see what's buried under the soil."
Wrangler are no strangers to collaboration. In the studio they've teamed up with LoneLady, Tom Rogerson (who works with Eno) and Serafina Steer on their albums La Spark (2014) and White Glue two years later. As well as remixing Primal Scream, Gazelle Twin and John Grant (on 'Voodoo Doll'), in 2015 they released a double LP of Modular synthesiser remixes entitled Sparked which included new takes on their music by Daniel Miller and Chris Carter (Chris & Cosey) amongst others. They also have a new album ready for release in 2020. Grant too enjoys working with other artists, sharing stages and songs with the likes of Kylie Minogue, Elbow, Richard Hawley and Tracey Thorn. His passion for electronic music – including Cabaret Voltaire – influenced his albums Pale Green Ghosts and Grey Tickles, Black Pressure, eventually leading him to Wrangler's sequencers and drum machines on Mr Dynamite and Benge as a co-producer on last year's Love Is Magic.
However, Creep Show is much more than the sum of its parts. It's almost as if the four band members and their machinery were possessed by another force: "Mr Dynamite is real," states Mallinder. "It's disturbing, he blows shit up."
'Dazzling . . . Mr Dynamite combines something genuinely sinister with a sense of fun, and far from being a whimsical side project for its members, it can be regarded as a landmark release for all of them.' The Quietus