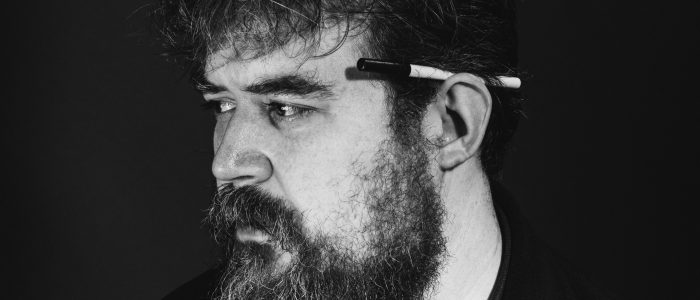 Daniel Knox
Tuesday 22nd January 2019
support
Doors 8:00 pm
Price £9 + booking fee / £11
Chicago-based singer-songwriter, Daniel Knox, returns to Brighton with his new album Chasescene – a mixture of real life experiences and gallows humour including a collaboration with Jarvis Cocker. Chasescene is an imperfect world with an irresistible charm.
Of the many remarkable things about Daniel Knox – and there are many, he's one of those artists who the more you look the more weird and wonderful details you'll find about him – one of the most significant is that people don't seem to just be fans of his, you get sucked into his world, completely enamoured. This has reaped some pretty remarkable rewards; in 2007 when David Lynch was touring the country with his film Inland Empire he asked for a local musician to play a piece which led to Knox composing a droning instrumental piece to perform in front of his idol – Lynch looming over him from the stage as he played. This was seen by musician and art director David Coulter (Tom Waits, Damon Albarn, Yoko Ono) who immediately flew Knox out for his 'Plague Songs' event at the Barbican Centre in London. There, Rufus Wainwright and The Handsome Family heard him play – both of whom Knox would later work with and lead to further collaboration with Andrew Bird, Thor Harris (Swans, Bill Callahan), Richard Buckner and more.
A year later, Coulter invited Knox back to the Barbican where Jarvis Cocker was in attendance, and a few weeks after that, Knox was in the studio with Jarvis recording backing vocals on his album Further Complications.
Through the subsequential bond Knox formed with Cocker, a personal collaboration came to pass. On Chasescene, Jarvis Cocker lends his trademark vocals to 'Capitol' backed by a ghostly musical saw, meandering saxophone and rusty strings. Elsewhere, Knox steps back, giving way to Nina Nastasia's effortlessly affecting vocals on 'The Poisoner', a swelling ballad taken from Knox's original score for Chris Hefner's film of the same name and given new life. Not to mention the players on the album who include the late Ralph Carney (Tom Waits), David Coulter, Jason Toth (The Handsome Family) and more.
"An achingly lovely exercise in vintage, chrome-plated, wood-paneled Americana" – UNCUT 8/10
"Knox possesses a ferocious talent that lures you deep into his twisted but fascinating world." – BLACKBOOK