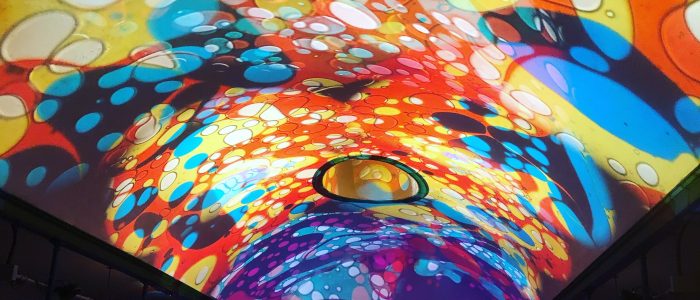 Lewes Psychedelic Festival 2020
Saturday 18th January 2020
Selling Fast
Doors 2:00 pm
Price 23.50 + Booking Fee/26.50 on door
On sale now
Bar facilities available
Note: There is limited capacity for all ticket holders on the Saturday afternoon in the Small Psych Room and at Union Music Store 3-5pm
The bar serves local ales and good quality alcoholic and nonalcoholic drinks.
There is a cloakroom available from 5.30pm Saturday for £1 a coat/bag, left at your own risk but there will be someone attending it the whole time.
Information on the festival:
Lewes Psychedelic Festival returns with visuals and music for the senses in the ancient setting of Lewes, with two events featuring an array of artists on the psych spectrum on the weekend of 17th and 18th January 2020
Melting Vinyl and Innerstrings are proud to announce Lewes Psychedelic Festival 2020.
The festival returns on Saturday 18th January at the All Saints Centre, plus this year at the historic Westgate Chapel on Friday 17th January.
Lewes Psych Fest has a reputation for bringing together a wide variety of acts under the psych umbrella, and historically has always sold out well in advance; so we advise early purchase of tickets.
As ever, international visual artists Innerstrings will be bringing the visuals, turning both venues into a bath of swirling liquid light, not unlike being in a giant lava lamp.
News!: Every week we will be announcing an artist appearing at the festival, keep an eye on our social media.
First announcements!
TVAM:
Our headliner for All Saints Centre is TVAM
We have watched TVAM go from strength to strength over the years, having witnessed him perform at Cosmosis, Sounds From the Other City, and more recently at Sea Change festival. Joe now tours with a full band as well as his trusty television and VHS player. We can't wait to see TVAM headline for us!
"Joe Oxley is the electro-psych man/machine behind TVAM and has arguably produced the biggest dance-floor action Wigan has seen since the legendary Casino closed its doors in the 1970's . As Lauren Laverne observed "It's like someone took Spiritualized to the club!!"
Heralding the arrival of a singular talent the self-produced and home-recorded debut album 'Psychic Data' contains 'These Are Not Your Memories' and 'Narcissus' (both of which enjoyed playlist support at BBC 6Music) alongside 'Porsche Majeure', 'Gas & Air' and the title track.
Hypnotic tracks which straddle an impressive spectrum of influence; with Boards of Canada's irresistible nostalgia, Suicide's deconstructed rock 'n' roll and My Bloody Valentine's infinite noise all becoming touching points in Oxley's musical output.
Crafting a world which touches on our memories but toys with our fears, a world in which information seeps under your door and pools by your feet, a world in which he seeks to define everything from abandoned meanings to subconscious desires, 'Psychic Data' invites us to experience the psychodrama first hand.
TVAM gigs blur the boundary between art and performance; via a large television sitting on an 80's secondary school-style podium, a VHS video recorder projects long-forgotten Mondo movies alongside vintage footage often sourced from hours spent poring through charity shop shelves.
"It's like someone took Spiritualized to the club!!" – Lauren Laverne, BBC 6Music
Second announcement:
Innerstrings worked on a festival, where they were playing, and they blew him away….
From the ashes of three psychedelic rock bands, rose Japanese Television: Al Brown, Alex Lawton, Ian Thorn, and Tim Jones – who formed with a shared vision of creating a modern psychedelic space-surf-soundscape. The band have released two EPs on Tip Top recordings and recorded a live session for Marc Riley on BBC 6 Music. Their debut album will follow in summer 2020.
"Mindbending and Brilliant" – Marc Riley
Third Announcement:
Immersion is an instrumental duo combining Malka Spigel and Colin Newman.  Both had already carved out significant careers with the bands Minimal Compact and Wire respectively.  But the work they create as Immersion occupies its own unique space.  Over their lifespan, they have developed a signature sound that is timeless and yet completely modern – a style that is perhaps best described as urban kosmische
 'Too strident to be remotely ambient, and too thoroughly liquid to be pure post punk, Sleepless is the kind of album you simply fall for, in a way you embrace something that sounds familiar but almost aggressively fresh and vibrant'  Quietus 
Fourth announcement:
Pye Corner Audio specialise in a majestic and cinematic electronica that conjures up the sound of haunted dance floors. A unique blend of John Carpenter, slow disco, deep house, and electronic library music.

Over eight albums across several labels and remixes for John Foxx, Mogwai,
Mark Lanegan and Stealing Sheep. Pye Corner Audio's Martin Jenkins is a seasoned live performer and a regular guest at Ghost Box's Belbury Youth Club events. Much in demand over the last two years including shows at Enter Ibiza, Barcelona's Lapsus Festival and Mogwai's 20th anniversary show at Barrowlands in Glasgow.
He completed his first tour of the United States in early 2017, taking in LA, Seattle,
SF, Moog Fest, and NYC. 2017 also saw releases on Death Waltz Originals, Analogical Force, Lapsus Records, Jealous God and Polytechnic Youth. He has just released Hollow Earth, his third album for Ghost Box Records