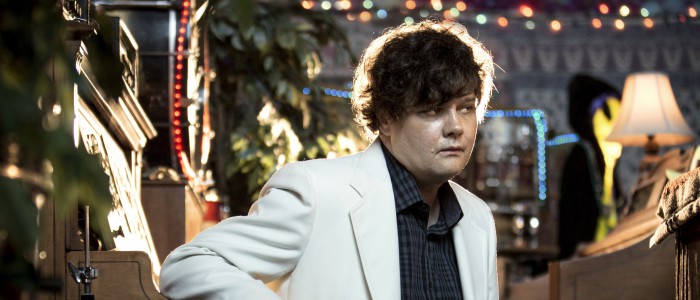 Ron Sexsmith
Tuesday 27th October 2015
Trevor Moss & Hannah Lou + Kate Wintie
Doors 7:00 pm
Price £20 / £22 (U16s £16 / £20)
Ron Sexsmith returns with new album Carousel One, a warm, deeply involving set of songs that showcases Sexsmith's great empathy and occasional sentimentality, but also his often-overlooked playfulness.
For Ron Sexsmith, there's always a trigger to an album, something that sets in motion the songs he's writing not exactly as a concept, but certainly a theme or feel. His last album, Forever Endeavour, was born of a health scare while its predecessor Long Player, Late Bloomer was born of disillusionment. 2015's Carousel One, however, finds Sexsmith in surprising territory for a man often pegged as a downbeat balladeer: he's actually contented; there's a lot more humour and is outgoing.
Self-deprecating almost to a fault, Ron has been a critical success ever since his self-titled debut back in 1995, winning the admiration of major league songwriters such as Elvis Costello and Paul McCartney along the way.
Long Player, Late Bloomer was a big, glossy sounding album, helmed by fabled producer Bob Rock, which Sexsmith followed up with the more acoustic Forever Endeavour in 2013. Carousel One however, sits somewhere between, with fulsome production but minus Bob Rock's airbrushing. The result is a warm, deeply involving set of songs that showcases Sexsmith's great empathy and occasional sentimentality, but also his often-overlooked playfulness. Although the sound and feel are inspired by '70s albums from the likes of Phoebe Snow and Gerry Rafferty, it's a record that sounds very fresh and modern.
Producer Jim Scott – introduced to Ron by mutual friend Kevin Hearn from Barenaked Ladies – assembled a seasoned band to play on the album: bass player Bob Glaub, whose previous clients include John Lennon, Lucinda Williams, Jackson Browne, Warren Zevon, Dolly Parton, Graham Nash and hundreds of others; guitarist Jon Graboff (Norah Jones, Ryan Adams); drummer Don Heffington (Bob Dylan, Emmylou Harris, Lone Justice); and keyboard player John Ginty (Dixie Chicks,Whiskeytown, Neal Casal, Matthew Sweet).
Carousel One (named for the luggage retrieval belt at Los Angeles airport where bags off Toronto flights are delivered) is probably Sexsmith's most diverse album, another "happy accident". Songs like 'No One' came from the idea of attempting to write in the vein of Roger Miller. Opening track 'Sure As The Sky' originated as a folky campfire song but it turned into more of a folk/rock number.
'Saint Bernard' meanwhile, is a tribute to an anonymous family dog from a photograph picked up in a second-hand shop by Ron's wife, Colleen. It's the perfect example of how he can make even a wistful, nostalgic song turn with a touch of humour, equating the dog that saves him as his own personal minibar.
Support comes from:
Trevor Moss & Hannah Lou
"With the soft thrum of their acoustic guitars holding up their angelic vocal narrative, there's so much harmony here that you forget about how discordant everything else is outside the beautiful world they've built." – NME
Kate Wintie
Kate Wintie is a singer/songwriter from Folkestone, Kent. With songs exploring young love and its ever-present burden, in a style that is reminiscent of Paul Simon and City and Colour, this sombre yet passionate songstress is one to watch. Her music has been described as nostalgic, heartfelt and bright. With a passionate and energetic performance.
Having been involved in the Kent Music scene since 2011, after fronting synth pop band Yamaharahara, she turned her hand to explore the acoustic scene in 2013. Since this time she has released a record under the British label Engineer Records, and completed a two week tour of the U.K.
One to watch for the new year, as Kate is currently making plans to release a second ep and plan a Second tour.