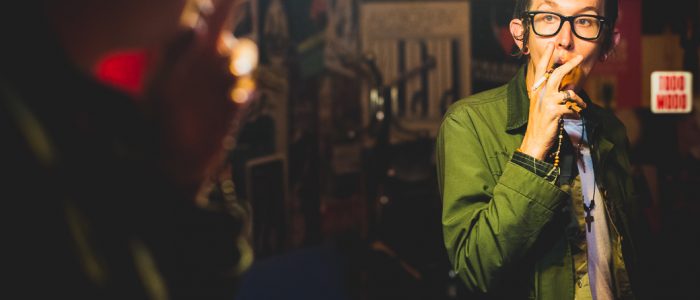 Micah P. Hinson and the Holy Strangers
Tuesday 3rd October 2017
The Saxophones
Doors 7:30 pm
Price £15 + booking fee / £19
TICKETS ON SALE NOW
Micah always sells out his shows in Brighton, why? Because the much-loved Americana Tennessee-born singer-songwriter taps into our alternative spirit. Micah returns with a full band and new album "Presents The Holy Strangers" (September 8 on Full Time Hobby).

Micah P. Hinson's new album "Presents The Holy Strangers" is described by the artist as being a "modern folk opera." Telling the story of a war time family, going from birth to love, to marriage and children, to war and betrayal, murder to suicide – spanning all of the strange and glorious places life can lead. We follow their story, we see their decisions, we see their faults and their beauty. We live with them, we die with them.
Two years in the making, Micah wrote and recorded The Holy Strangers in Denison, Texas, incorporating ancient reel to reels, analogue keyboards, old Tascam and Yamaha desks. The recording only entered the digital realm once pre-mastering took place. Split across two pieces of the vinyl, the 14 tracks which make up The Holy Strangers are at times sparse and haunting; at other times luscious, maybe even euphoric. From the Johnny Cash-style country single "Lover's Lane," to the album's broad, spoken-word centrepiece "Micah Book One", The Holy Strangers covers a lot of ground over the course of its hour long running time, appealing to both long-time fans and new ones alike.
"a unique songwriter capable of converting lyrical gloom into musical glory." – BBC ****
"There are few voices in contemporary alt-country quite so adept at wresting consolation from the depths of despair as Hinson's sonorous baritone." ****
Support comes from:
The Saxophones
Alexi Erenkov's duo, The Saxophones, create beautiful and personal music. Accompanied by his wife, Alison Alderdice, on percussion and samplers, they blend the darkness and melancholy of 1950s balladry with minimalistic woodwind arrangements, creating a hypnotic sound that hearkens to the past while affirming its place in the present.