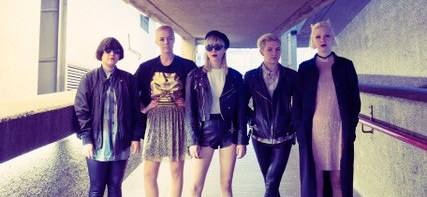 This is Awkward Pop: PINS
Friday 3rd November 2017
support
Doors 7:00 pm
Price £12.50 / £14.50 (+ booking fee)
THIS IS AWKWARD POP is our new series of events brought to you with the intention of shining a light on your next favourite left-field up and coming acts.
Bella Union's, Manchester-based band PINS are a noisy, garage, catchy shoe-gaze pop who have supported the likes of Sleater-Kinney, Drenge, The Subways, Best Coast and most recently Honeyblood, aswell as perform their own headline gigs and shows at festivals including SXSW and Secret Garden Party. Their recent collaboration with Iggy Pop for song 'Aggrophobe' is a unique and engaging mix of spoken word and PINS' signature lo-fi gritty guitar pop.
PINS were formed in 2011 by singer/guitarist Faith Holgate alongside bassist Anna Donigan, drummer Lara Williams, and guitarist Lois McDonald. After Holgate had spent time in different bands, mostly alongside guys, she was fed up with being the "token girl" and decided to invest time in finding an all-girl lineup. Once the other three members were recruited, they set to work playing noisy, pop-influenced, guitar-led music that nodded to noted influences such as Hole, the Jesus and Mary Chain, and Beach House.
They packed their rough-and-gritty live sound with attitude, and after a series of shows in a number of unconventional spaces — such as disused office blocks and hotel basements — they released their first single, "LUVU4LYF," in 2012. Their self-produced debut album, Girls Like Us, which they recorded in a week, arrived in October 2013.
For 2015's poppier and more polished Wild Nights, PINS worked with producer Dave Catching at the Rancho de la Luna studio in Joshua Tree, California.
Iggy Pop has teamed up with  PINS for a new song, "Aggrophobe." It appears on the band's upcoming Bad Thing EP—out March 24. Iggy explained to i-D how the collaboration came about: "They sent me a good song and they're looking for a narration in it, and I liked their music and their picture, so I'm doing that."
"Noise, power and melody; you can hear the ambition of a band on the brink of a major breakthrough" Q
"Terrific songwriting – a confident step forward" The Observer
"The confident sound of a band exploring and developing" The Quietus