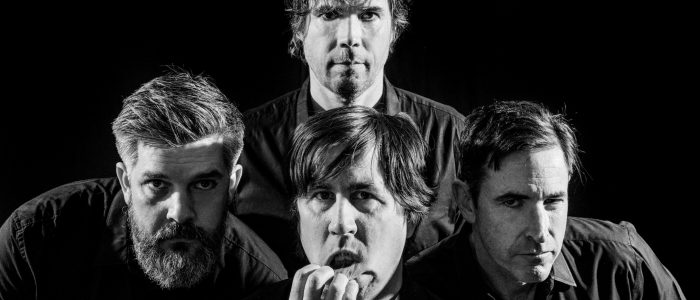 The Mountain Goats
Thursday 12th October 2017
Selling Fast
support
Doors 7:00 pm
Price £20 + booking fee / £24
Tickets on sale now!
North Carolina's indie-folk favourites The Mountain Goats return with their most ambitious album to date 'Goths' out on Merge Records.
Now officially a four piece (with the inclusion of musician Matt Douglas) The Mountain Goats recorded their latest album Goths in legendary Blackbird Studios in Nashville.
The theme this time around is 'goth', a subject closer to the hearts of the band than one may think. A theme that has always simmered in the background of all TMG albums, but this time is brought to the foreground, an identity that is tackled head-on. The identity is most often associated with youth however songwriter John Darnielle looks on from a perspective that is inescapably adult. Anyone old enough to have had the experience of finding oneself at sea in a cultural landscape that's suddenly indecipherable will emphatise.
Track 'Rain in Soho' includes the ethereal voices of the sixteen members of the Nashville Symphony Chorus, and a driving piano, with a turbulent lament that gathers force. It's a good introduction to the sound of the new album, where TMG have decided to do away with guitars and instead look at piano as the foundation instrument of choice. The change in arrangement has added a new avenue for melody and song structure. The lo-fi elements are always there but this time it's a lo-fi that glistens and basks. It's a testament to the steady heart and soul of a band that knows its identity but challenges you to find it with them.
The Mountain Goats have collaborated with the likes of St. Vincent, Franklin Bruno, Erik Friedlander, were handpicked by Jeff Magnum of Neutral Milk Hotel to play ATP Festival in 2011, and have supported John Green and Hank Green at a special Carnegie Hall 'Evening of Awesome' performance.
[On previous album 'Beat The Champ'] "John Darnielle shares Haines' nostalgic affection for the stars of Martial pantomime, and deploys his deadpan indie rock and trademark wordiness to fine effect." – Uncut ****
"Theatrical, impassioned, and occasionally heartbreaking, Beat The Champ distills the very essence of classic Mountain Goats into another compelling album." – Line of Best Fit ****