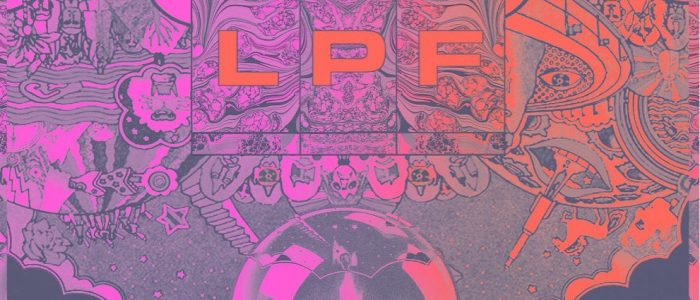 Lewes Psychedelic Festival Saturday 9th February 2019
Saturday 9th February 2019
Sold Out
Doors 3:00 pm
Price £22.50 adv + booking fee
Lewes Psychedelic Festival returns with visuals and music for the senses in the ancient setting of Lewes, with two events featuring an array of artists on the psych spectrum on the weekend of 8th-9th February 2019.
Saturday 9th February 2019, 3-11pm
Venue: All Saints Centre, Friars Walk, Lewes, BN7 2LE
Doors 3-5pm: Small Psych Room, All Saints Centre & Union Music Store (limited capacity).
Doors 6-11pm: Large Psych Room, All Saints Centre
Box office and bar open 2-11pm
Tickets: £22.50 adv + booking fee from Resident, Union Music Store, Ticketweb and Seetickets / £26.50 on the door (if available)
All ages welcome, under 16s to be accompanied by an adult
Standing and unreserved seating
Event Notes: There is limited capacity for all ticket holders on the Saturday afternoon in the Small Psych Room and at Union Music Store.
The bar serves local ales and good quality alcoholic and non alcoholic drinks.
There is a cloakroom available from 5.30pm Saturday for £1 a coat/bag, left at your own risk but there will be someone attending it the whole time.
Large Psych Room, All Saints Centre, 6-11pm
AK/DK's latest album Patterns/Harmonics was a BBC6 Music Album of the Day, with the lead track Morphology seeing very heavy support from the station.  In 2018 the Brighton duo played a series of sold out UK tour shows and around 20 festivals including End of the Road, Bluedot, The Great Escape and Lunar in the UK, as well as festivals in Netherlands, Belgium, Germany, Italy, France & Spain and touring Argentina and Brazil, and are working on their next release due in 2019.
We say: "We've always been fans of AK/DK's high energy, two piece, two drums, two synth setup. They've been rapturously received at many festivals this year, and are currently touring South America, so we'd thought you'd really enjoy them finishing the festival."
https://akdk.bandcamp.com/
The Soundcarriers 
The Soundcarriers were formed in Nottingham, UK, where founder members Adam Cann, Paul Isherwood and Dorian Conway have played together since childhood, switching instruments and roles and generally ignoring the conventions of what it means to be a band. Leonore Wheatley completes the band's line-up adding subtle, gentle vocals and harmonies. Their sound is psychedelic in the less well-trodden way: folk, exotica and jazz-influenced, free-thinking and utterly spaced out.
 They released their debut album Harmonium in 2009, followed by Celeste (2010) and Entropicalia (2014) and are currently close to completion on a new LP. 
" It takes a weird inner strength to pit flutes and quiet voices against drums and electronics and the rest of the world… No need to compare and make odious references. Best to listen in a kind of vacuum – let sound happen. The Soundcarriers do that in unlimited wavelengths." – Chris Dedrick, The Free Design
We say: "We welcome the return of The Soundcarriers to Lewes Psych Fest, with their unmistakably mesmerising sound mixing 60's cinematic soundtracks with jazz and electronica.
Swedish Death Candy are psychedelic, yes, but not many bands can boast to be able to combine that with crunching heaviness, melodic power and mind-bending dynamics, pulling influences from Black Sabbath to Queens of The Stone Age via Can and The Beatles to Oasis.
Calling London their homebase, Swedish Death Candy have their roots spread across the international spectrum featuring members from the UK, Italy and South Korea.
The band intends for the music to be thick and heavily layered, powerful and melodic, and they achieve this in bucket loads pulling influences from all manner of their experiences and cultural backgrounds, alongside their current individual lifestyles. The variety within the band's individual backgrounds, skill sets and influences has led the band to be truly unique – and one that is vital for today's current scene.
So do you take the red pill and go further down the rabbit hole with us or do you take the bill pill and stay in reality with them? We would heavily suggest the former and come into the world of Swedish Death Candy!
We say "We caught the Dead Meadow show in Brighton recently, Swedish Death Candy were supporting. What blew us away, was the sheer power of their sound and the amazing musicianship of these guys. They lull you into a lysergic dream with beautiful intricate passages, then take you on the full trip, with skull crushing riffs and punishing drum patterns. An incredible band, we can't wait for them play Lewes Psych Fest."
https://swedishdeathcandyuk.bandcamp.com
Speak Galactic 
Formed in the early 2010's as a bedroom recording project by Brighton's Owen Thomas, Speak Galactic rapidly expanded to a live three piece, expanding their songs in scope (and length) along the way. Employing 3-octave guitar, sample loops and live drums they create arpeggio jams and loose, playful psych-pop for fans of Deerhunter and Tame Impala. 
They have released 2 albums and 2 split EPs on Brighton Labels Cupboard Music and Love Thy Neighbour. 
We say: "We always need a band with a big angular, electronic sound, and Speak Galactic create a monumental sound that will blow you away. These guys don't play out very often, so we are thrilled to have them play this rare performance"
https://speakgalactic.bandcamp.com/
Rokurokubi 
Rokurokubi are an experimental two-piece with their roots in psychedelia and folk. Inspired by the work of Angela Carter, Sylvia Plath, William Blake and Edgar Allan Poe, their songs contain a haunted uneasiness, subtly changing from sweet love song to fevered murder ballad; child-like reverie to deliciously lust-fueled witchery. Heavy playing is contrasted with ethereal vocals delivering poetic lyrics tinged with melancholy and humour, examining the shadow side of what it means to be alive (or dead, for that matter). Rokurokubi's first album will be released early 2019. You can watch their latest music video here: 
We say:  "We first caught Rokurokubi playing at our warm up night in Lewes a couple of years ago. Now stripped back to a two piece, Rokurokubi are as enchanting as they are heavy, veering effortlessly from psych-folk balladry to heavy riffs within the same song."
Acid Box DJs
Based in Brighton, music enthusiasts and founders of Acid Box Promotions, Polly Miles and Ollie Thomas will be spinning a variety of garage rock, post-punk, psychedelia and heavy fuzz as well as forays into electronic and world music on the night.  They have a driving passion for underground and experimental music, making sure the free spirit of rock'n'roll is introduced and passed on to the next generation.
www.acidboxpromotions.co.uk
Small Psych Room, All Saints Centre, 3-5pm (limited capacity)
Hamilton Yarns 
Carried along by an array of clunking, clattering percussion, minimal melodic lines, field recordings, deadpan vocals and spontaneous composition, Hamilton Yarns create a musical journey that is spooky, comic and hypnotically compelling.
The music and words are drawn from experiences that are on the surface mundane and everyday – a walk up a hill, a log falling onto concrete, the sound of peppers in a frying pan – but imbued with a daydreamy sense of drama.   The band have for the past 16 years been forging their own brand of un-rock, and have a new album currently out called Shadow of the Hill.
We say: "We've always been fond of their Syd Barrettesque woozy psychedelia. Hamilton Yarns have always put on a unique entrancing and fascinating show. This is a rare outing for them, we can't wait for them to play for us"
Linden Pomeroy
Linden Pomeroy is a musician and artist from Worthing, using treated guitars, tapes, voice and found sounds to create a rich, sprawling sound world, navigating a delicate brand of ethereal post rock, moonlit ballads and echoing post blues inventions.
You know that hollow space between falling asleep and trying to imagine the sounds you hear at night? Like how you heard an entire conversation outside, then a *creak* and your significant other is standing behind you saying "Who's out there?" but you reveal there was nobody there at all.
Linden Pomeroy does all this in finding how far effects stretch around pensive angelic vocals, providing listeners with an audible hallucination by way of the Sandman.
We say: "Part of the blossoming Worthing scene, we first caught Linden supporting ZOFFF at a show in his hometown. His performance was completely spellbinding, with echoes of a reverb laden Six Organs Of Admittance or Barn Owl."
Union Music store, 3-5pm (limited capacity)
Emma Tricca first came to our attention at a very special performance at St.Pancras Old Church with Jason McNiff a couple of years back. Her delicate finger style guitar and beautiful harmonies had the audience entranced. We are so excited that she is coming to Lewes for this special performance.
Channeling the sounds of The Byrds, Big Star and The Flying Burrito Brothers, as well as hints of Mojave 3 and The Allah Las, The Hanging Stars mainline the dying embers of the early 70s psychedelic folk and cosmic country scenes. The band is comprised of songwriter, singer and guitarist Richard Olson (The See See, Eighteenth Day of May), Sam Ferman on bass, Paulie Cobra on drums, Patrick Ralla (The Alan Tyler Show) on banjo, guitar, keyboards and assorted instruments, with pedal steel courtesy of Joe Harvey-Whyte.
Their 2016 debut Over The Silvery Lake was described by The Times as "an album with enough of a hazy, sun-dappled charm to make the capital's dreariest weather bearable". They released their second album Songs For Somewhere Else in February 2018 to critical acclaim from from Uncut (Revelations article), Shindig (several features and 4* review) as well as The Quietus and The Line Of Best Fit, plus radio support from Gideon Coe and Bob Harris. They toured with Californians GospelbeacH and have shared the stage with Teenage Fanclub, Wolf People and Brian Jonestown Massacre.
We say "We first caught these guys opening at Liverpool International Festival of Psychedelia, where their brand of sun-soaked country-psych vibes brought a welcoming glow to proceedings."